A kewl VW Bus
---
Radio 104 Fest
I attended the Radio 104 Fest on June 1, 1997, and it was a blast. The bands that played were Blondie, Better than Ezra, Our Lady Peace,Echo and the Bunnymen, MIGHTY MIGHTY BOSSTONES,K's Choice, Orbit, Local H, Moist, Distric 13, Moby, Rane, Abra Moore, Lori Carson, Red 40 Lake, Mind Tydes, Mighty Purple, The Cunninghams, Smoke House Profites, Groove Fiction Sex Ceremony, and Lee Totten.
It was a truly a great time even though it was sprinkling a little and we got rained on. It was at Riverside Amusement Park, in MA, and I went with my best friend Jaime. It was a long day, but GREAT! We ended up skipping school on Monday, cause we were so tired, I mean..who wouldn't be tired...after such a long day! We saw so many freaks...hopefully soon, I'll get the pictures developed, and the scanner running.
Well, we didn't go on many rides, actually we only went on two..the lines were outrageous!! But we did have fun hanging out by the music and dancing around. I finally went crowd surfing!! It was so much fun...I just walked up to a group of guys and said hey would you mind putting me up...and well, they didn't. So I went..and it was so kewl...it was great!!
During the course of the day, we saw many crazy (to say the least) things...for example: headlights were on ALL day!! then at least 3 girls either flashed everyone...or the one chick..her top fell down!!! Then there was the dude with the tie dye pants...don't get me wrong..tie die is great..but not when your GUT is hanging over it...*ICK* then there were just freaks...*L* all kinds...
I must say, it was one of the most interesting concerts I've been to...but also one of the best....I enjoyed seeing Local H again, for they were good, and the Bosstones Kicked Some Putatie!!!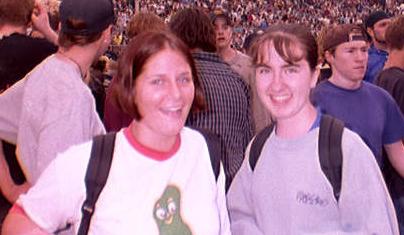 Jaime and I at the Concert
---
BACK to MY page: